Host

Institute

Educated youth is the backbone of any society. Modern and world-class education can go a long way in building a self-reliant, civilized and progressive society. Host Institute is providing the basic facility to KVK help them to achive target and I wishing that Our KVK will put farming community in their success.

Mehsana District Education Foundation (MDEF)– a private trust committed to discharging the service of providing quality education  - is nurturing and watering the institute. MDEF has been a synonym for a group of people who are visionary and having some inner appeal of drawing revolution in society through Education. The leaders are ethically sturdy and at heart generous human personalities. The trust is expanding its volume since  many financially affluent persons have felt like becoming a part of it by whatever help they can extend.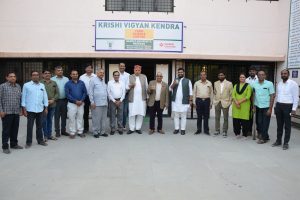 About

KVK

A need was recognized by a few enlightened sons of the soil of North Gujarat to bring the modern and higher education within easy reach of young generation of the land for economic, social and cultural upliftment aimed at improving the quality of life in totality. The recognition of this need led to the formation of a dream. The dream charted out of a collective vision and pragmatic direction to build a world class educational complex with multiple purposes to provide various social organizations and individuals an opportunity to come forward and repay their debt to the society by 'investing' small fraction of their prosperity for the multifold return to the generations next. A pioneering team of philanthropic and enlightened individuals leaded by Shri Anilbhai Patel and like-minded friends, soon came forward with the resolve to transform this dream, through Herculean efforts and committed dedication, into a reality. Very soon the Team was joined by large number of people, big and small, from diverse walks of life, to share the thrill and responsibility of building up the edifice of huge academic campus in North Gujarat -Ganpat Vidyanagar, now the Ganpat University established underGujarat state Act No. 19 of 2005.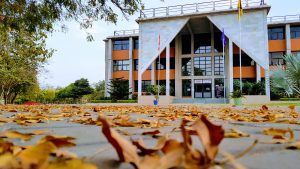 About

Ganpat University

Managed by Mehsana District Education Foundation, Ganpat University is conceived as the educational township to house and nurture all sorts of institutions offering value added professional, internationally competitive and recognized programs on one hand, and on another hand institutions of primary and secondary education with sound foundations of learning and enculturation of orient values essentially Indian in spirit and heritage.
About

Ganpat University

The foundation has constructed a large education complex near Kherva village of Mehsana District. The complex is far from the urban din and is located in natural surroundings on Mehsana – Gozaria state highway. The total area of the campus is around 300 acres where large institute buildings and separate hostels for boys and girls are constructed.

Mehsana District Education Foundation (MDEF) was established in june1996 by eminent industrialist, businessmen, NRI industrialists, educationalists and the social leaders of North Gujarat with the objectives: 
To uplift the rural society through education by providing preprimary to postgraduate education in diversified areas.
To setup a strong infrastructure to promote high standard education in the hi-tech fields of engineering and technology to meet the needs of trained man-power in Gujarat and beyond.